Buying a new appliance versus repairing the old one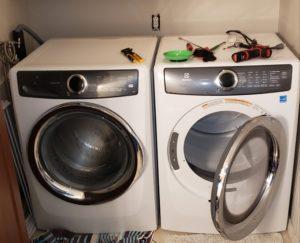 Is it worth repairing my washer? Or dryer, fridge, stove – you name it? What about buying a new appliance versus repairing the old one?
This is one of the most common questions every appliance tech hears from his customers. But even though the question is the same, the answer might be different, because it really depends.
The standard recommendation states that major appliances need to be replaced if the cost of the repair of the old one exceeds 50 percent of the price of the new unit. In many cases, it really works. If you own a 10-year old washing machine and it requires transmission replacement for $600-700 (while the price of new $700-800), we would suggest replacing it. Natural wear and tear may have affected the unit parts besides transmission, and since the washing machine isn`t that new, something may happen within 1-2 years or so even with a new transmission.
But if it`s a 5-year old dryer that is noisy and needs to be repaired with a dryer repair kit for, let`s say, $300, the choice wouldn`t be so obvious. Dryers are much more simplistic compared to washing machines, and with new rollers, they may work for another 3-5 years with no problem. Plus you don`t need to pay for the disposal of the old unit, for the delivery and the installation etc.
And if it`s a built-in refrigerator, you`re almost out of choice because installation of the new unit would cost you much more than repairing, even if repairing costs several thousand dollars.
But how to know what to do without gambling in a particular situation?
First of all, ask your technician. Knowledgeable and honest technicians don`t rush for profit, they think about the customer's interests and may recommend the best options considering all given factors. Then, if you hesitate, take your time. Shop around, make some calls, sleep overnight. Sometimes it`s really difficult to get the unit you like, especially if you are looking for something particular in terms of brand, size, or color (you might be surprised how bad COVID-19 affected appliance factories). Finally, if you purchase a new appliance, get an extended warranty, if your supplier has its own service department. You can purchase an extended warranty even with third-party companies, but in that case, you have to be prepared for delays with service and parts availability. Sometimes they might be inappropriate big.
If you decide to go for repair, choose a trustworthy repair company and get all warranty papers.