LG Refrigerator Not Cooling? LG Owes You A Compressor
LG refrigerator not cooling? LG owes you a compressor
If you are reading this article, then supposedly your LG fridge is not cooling well anymore. It`s a common issue and in many cases that means you`re going into expensive repair because of the failed compressor. But there is a way to save your money when the LG refrigerator is not cooling anymore. At least part of it.
LG refrigerators are pretty good and reliable in general. But they have an Achilles heel – the compressor. Unlike other brands, LG utilizes its own technology called linear inverter compressor. The main difference between these types of compressors in terms of technical design is that the working parts in them move back and forth, while in rotary compressors they move up and down. From the consumer's point of view, however, the most important thing is that these compressors had a very high recall rate. Some of the consumers even filed lawsuits against LG because of that.
LG Electronics admitted the problem and now the company covers all the compressors with a 10-year warranty across the United States. If your compressor failed, call a reliable appliance company to verify the problem. Then you have to call LG, provide the model and serial number of the unit, and the company ships you a new compressor for FREE. It may take time, but if the system works, you`ll get the compressor.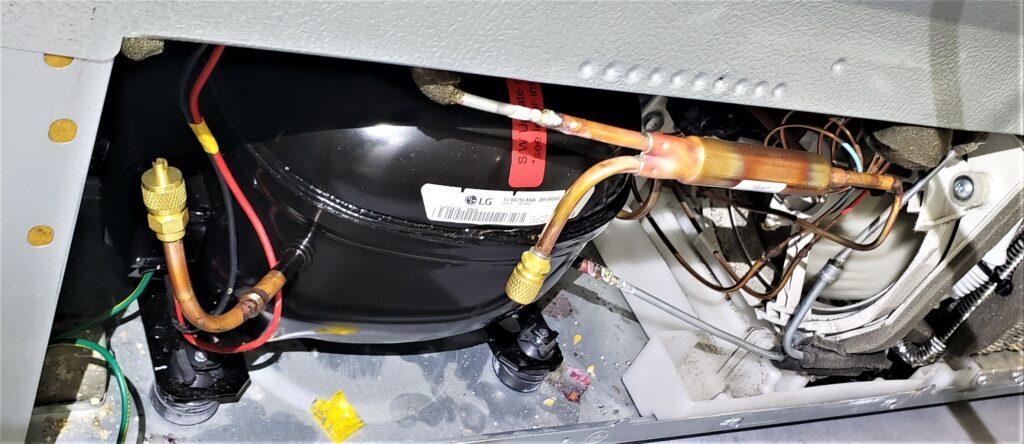 It definitely decreases the cost of repair. The repair would still be comparatively high because all the sealed system works are complicated and expensive, but it would drop down because of the free compressor.
How to know if your LG fridge compressor failed? Here are some troubleshooting tips for the LG refrigerator. It may have the following symptoms:
– the fridge is running but not cooling at all
– the freezer is not freezing but the fridge is cold
– the ice maker stopped working and the freezer doesn`t feel that cold (ice cream is softer than usual)
One of the main symptoms of a failed compressor on LG refrigerators is when the unit is working all the time and the running compressor noise is heard constantly.
However, for the proper diagnostic, we would recommend you call the appliance repair company with EPA certification to work on sealed systems.
Need LG compressor replacement in Orange County, CA? Contact My Appliance Crew at 949-419-6165 or book an appointment online. We offer same-day appointments and LG compressor replacement in nearly 100% of cases!