Main Problem With Samsung Appliances
Are Samsung appliances any good?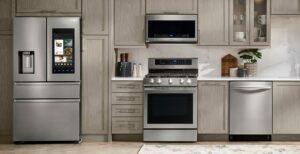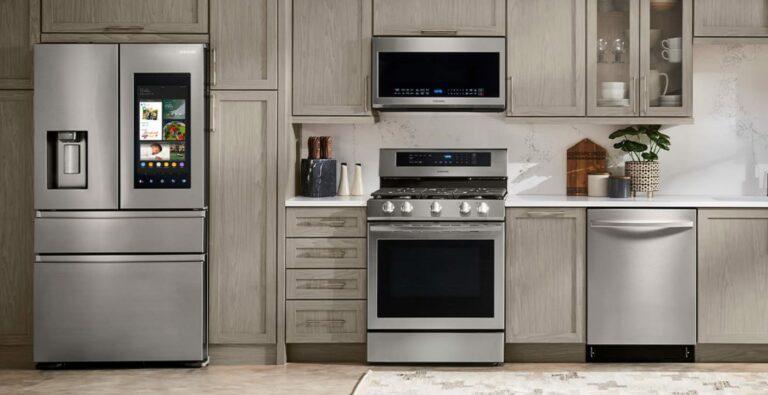 "I would never ever buy a Samsung again!" – Linda, one of our customers who needed appliance repair in Orange County, CA, was angry and furious.
That was understandable: her only 2-year-old Samsung front-load washer already required an expensive repair. If you would ask her the question above, she'd definitely recommend you not even think about buying Samsung appliances. But are they so bad for real? The answer is a little different than you may think.
It`s all about the price 
Linda's case is not an exception. When people purchase Samsung appliances, be they a washer, dryer, refrigerator, or oven, they typically do it for economical reasons. These appliances are fancy, and have a lot of functions, and yet they are usually cheaper than competitors' models. People are happy with them until something breaks. Now, the unexpected and unpleasant part of owning Samsung appliances begins.
For instance, Linda's washer required the replacement of shock absorbers (rods that hold the drum in place). Shock absorber replacement is not something unique. But while you can purchase the OEM kit of 4 absorbers for a Whirlpool washer for $70-80, Samsung parts would cost you $95-125 each. That means a set of 4 goes for around $400. Add the labor fee to this amount, and you get a very questionable repair cost of around $600 for a washer that costs around $500 itself.
Of course, it's possible to use aftermarket parts that are significantly cheaper, but if you aim to repair with OEM components, be prepared for these price tags. Furthermore, aftermarket parts are not always available.
The same principle is applied to almost all Samsung appliances. This discrepancy between market positioning and post-warranty repair cost is something people find very hard to get. They bought Samsung because they were cheaper, so how come the repair is so expensive? However, it is what it is.
Samsung appliances are usually cheaper to purchase but more expensive in repairs than others.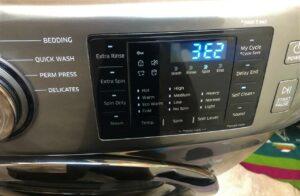 Let's take one more example. A 3-year-old Samsung front-loader is stopping mid-cycle. The unit shows error code 3E2 – probably the most hated error code amongst technicians. Techs hate this error because it may mean virtually everything, from a cracked wire to a bad main control board, motor, inverter board, hall sensor, or everything mentioned all together. Experienced techs typically quote everything at once because they don't want to get numerous callbacks. It's a good idea, except for one detail – replacing all needed parts on this washer would cost something around $700-800. How about that? Of course, people would think about replacing the appliance rather than repairing it.
Samsung makes a lot of models out of one
But this is not the end of the story. Due to the nature of Samsung appliance production, they are updated very often, and one model may have tens of different variations. Sometimes the differences are almost unrecognizable, but other times these differences are so significant that most parts, especially electronic ones, are not interchangeable. That said, you cannot use the board from Samsung WA50R5400AW/US 01 on WA50R5400AW/US 51, even though these washers look exactly the same. In addition to that, it's not uncommon for even the official Samsung representatives to be unable to supply the correct part number due to the mess with versions. This makes finding the right parts for Samsung appliances an exhausting and time-consuming exercise, which also affects the repair cost.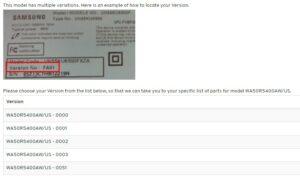 Don't get it wrong. Some appliances from this Korean manufacturer are relatively reliable and easy to fix. For instance, common mechanical issues with Samsung dryers can be fixed pretty fast because all of the dryers use the same rollers, belts, pulleys, and thermal fuses. Some Samsung washers work for decades with no issues in extremely unfriendly environments, being overloaded and not leveled properly.
The thing is that it's difficult to predict whether your Samsung appliance is going to last or break, giving an error code that is not even listed in the factory service manual, with the part that is hardly findable. That's why some companies on the market do not work on Samsung appliances. However, we do.
And if you need Samsung service in Orange County, CA, we are here to help. We also can honestly say that either your appliance is repairable at a reasonable cost, or it's better to replace it.
You may call us at 949-419-6165, or book the service online.