Best appliance brand. Technician`s pick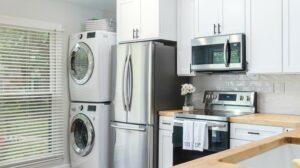 Best appliance brand. Technician`s pick.
What appliance brand to choose? What is the best refrigerator? What is the best washer? Dishwasher? Dryer? These are some of the most common questions every appliance tech hears. When the service tech is asked, the customer is mainly interested in reliability rather than design or different functions. There are several reliability ratings including Consumer reports. But we prepared our own rating based on a survey amongst appliance repair professionals all across the country. Surveys took place in closed professional forums and chats. So what would be the technician's appliance pick, and why?
We didn`t consider high-end appliance brands in this survey because of their prices.
Washing machines. Winners: Whirlpool, LG
Whirlpool has been one of the main American appliance brands for decades. In 2006, it acquired the Maytag Corporation, and now the company owns a wide range of brands including Amana, Maytag, Kitchenaid, and Jenn Air.
Whirlpool-made washers have some common features like a very loud door lock assembly (it locks with sound almost like a rifle shot), but they have good reliability in general. Repairs typically are not very complicated and can be made for a reasonable cost.
As for LG washers, they are quieter than Whirlpool and have very few well-known errors codes like OE, LE, and TE that are pretty easy to get rid of.
Dryers. Winners: LG, Samsung
Almost all dryers are simplistic by design. Technicians picked these Korean brands because they are durable and when it comes to repairing, the market has a lot of necessary parts, both original and generic.
However, since LG and Samsung renew model lines very often, electronic control boards may be unavailable for purchase even for 2-3-year-old models.
Do not overload your dryer and you should be fine. 
Dishwashers. Winner: Whirlpool/Kitchenaid
 The most common service request for the dishwasher is «my dishwasher is not draining». Typically that happens because of clogging inside the drain pump housing. Whirlpool-made dishwashers have a very convenient design with a front-faced easy removable drain pump. It makes cleaning and replacement easier compared to other brands. Sometimes that procedure can be performed by the customer himself.
As for more complicated repairs, Whirlpools are also pretty predictable dishwashers.
Refrigerators. Winner: LG
This is an interesting part of the topic. LG refrigerators are very «famous» for their so-called inverter linear compressor with enormous high recall rates. Some consumers even filed lawsuits against the LG Corporation for poor compressor reliability and somebody called it a disaster. Finally, the manufacturer admitted the problem and now it offers a free compressor and sealed system evaporator for every refrigerator younger than 10 years. The consumer doesn`t have to even have paperwork and a receipt from the store to prove the purchase. All that is needed is a model and serial number that leads LG to send a compressor to a given address.
So why choose LG with that problem? Because besides that, these refrigerators don`t have any other problems! And as most of the technicians said: «I can replace the compressor myself within an hour, what`s the big deal?».
My Appliance Crew service team